About Us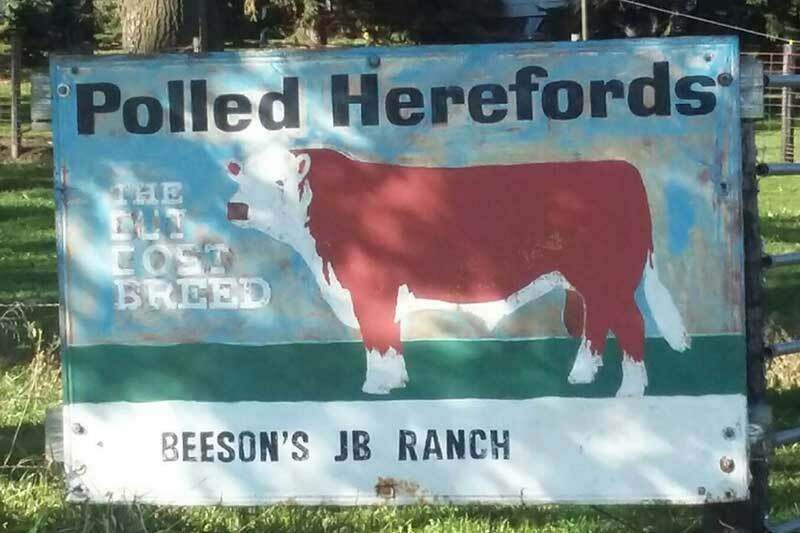 With sixty-five years in the Polled Hereford business, JB Ranch has focused on bloodline performance, mild, and muscled cattle with quiet dispositions and sound feet and legs. Forty-five mother cows. Out-cross bloodlines. Bulls and Heifers are available private treaty.

When Jack first started in Polled Herefords back in high school, he saw a good future in the breed. More than 50 years later he and Bev wouldn't change their decision to focus on the breed.

In 1949 Jack met a man from Wayne, Neb., that he thought had the two best Polled Herefords he had ever seen, Jack asked him about a job because there was a drought in Oklahoma.  A few years later, in August 1954, he was showing for Hervale Farms at the Sioux Empire Fair when he met Bev. They married in 1957 and Bev joined Jack working for Hervale Farms.

The couple purchased land and added to their Polled Hereford herd throughout the 27 years that they worked for Leland Herman and Hervale Farms.

Throughout their career the couple has spent many hours on the road and in show rings of fairs and farm shows throughout the country - showing at fairs and farm shows like the Sioux Empire Fair and Farm Show, the American Royal, the National Western Stock Show, Black Hills Stock Show and the National American Polled Hereford Show.

Some of the awards and accomplishments they are most proud of include the Sioux Empire Farm Show top selling bull in 2002, the 1965 National Champion Female at the National Polled Hereford Show and Bev winning the National Herdsman Award at the 1966 National Polled Hereford Show.  Bev was the first woman to win the National Herdsman Award - and that was before women's lib; the award was voted on by your peers and I was the only woman in the barn."

Jack and Bev's son Jock has also been a big part of JB Ranch's growth.  Jock exhibited in 15 Junior Nationals, only showing JB raised cattle; he has had many division champions.  Jock has also been Champion Junior and Senior Showman at the Junior National; as well as, Champion Junior and Senior Speech Contest winner.

Beeson's Polled Herefords are recognized for their disposition, feed conversion and size. They have a good disposition, good fertility, good soundness and doability. They also have the heavier rear quarter muscle and that is what is in demand today.


The couple works hard to keep their genetics in the forefront of industry demands. They artificially inseminate about 30 percent of the herd. Until recent years the couple maintained a herd of about 90 cows. After trading some of their land for irrigated farmland near Crawford, Neb., where their son Jock and his wife ranch, they downsized to about 45 cows.  They are always working to keep producing good and better cattle.